Boat Trips & Tours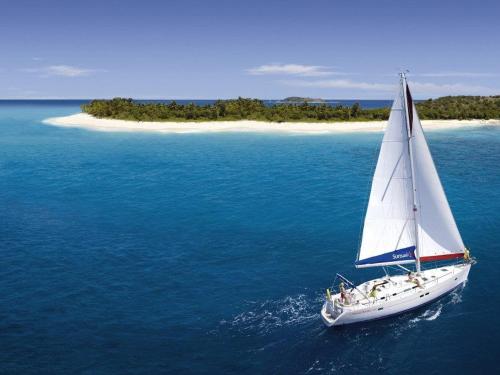 Boat trips to anywhere in the Grenadines!
We always recommend that guests take a day's excursion to one of the other islands. From US$ 100 per person a day you can visit a number of different islands such as chic Mustique or the beautiful Tobago Cays. You may be lucky to see dolphins or even whales. You can enjoy a mouthwatering beach barbecue with fresh fish or for those of you who would like to explore the beauty under the sea, spend some time snorkelling at one of the many beautiful coral reefs. We can arrange all these trips and tours via Blue Grenadines our specialised booking office.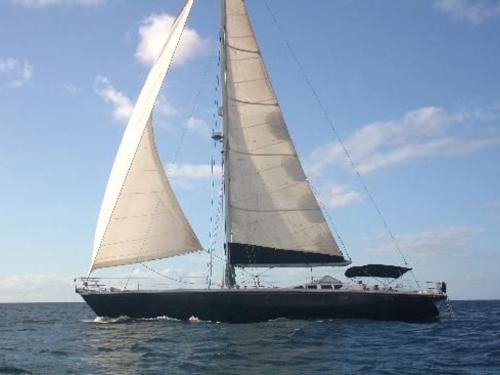 Octopus Yacht
Island hopping aboard your own private yacht, from one idyllic island paradise to the next. Join one of the scheduled day sails or charter the yacht for several. We can arrange all these trips and tours via Blue Grenadines our specialised booking office.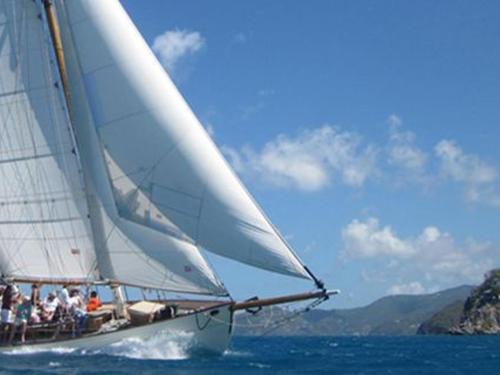 The Heron Schooner
Charter the entire boat to customize your dream Caribbean sailing vacation in the Grenadines. Join the Heron on one of their day sails or charter the boat for several. Sail, swim with the turtles in the Tobago Cays, snorkel, surf, kayak or even kiteboard! We can arrange all these trips and tours via Blue Grenadines our specialised booking office.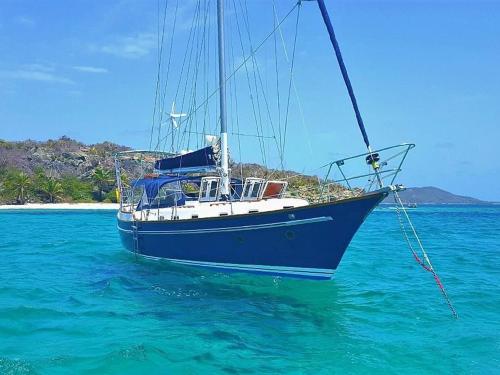 Charter Sail Boats
Combine your stay at the Old Fort, Historic Estate with a private charter. Grenada and St. Lucia are both international gateways to the Caribbean. We can have you picked up there and brought over to Bequia for a week or more. Weather and time permitting, you can sail to Mustique, Canouan, Mayreau, the Tobago Cays, Palm Island, Petit St. Vincent, Carriacou, and many more, with the option of spending several nights enjoying romantic anchorages and sunsets while your skipper attends to everything and drops you off in time for your return flight home. We can arrange any type of these charters via Blue Grenadines our specialised booking office.
Bequia Hikes & Walks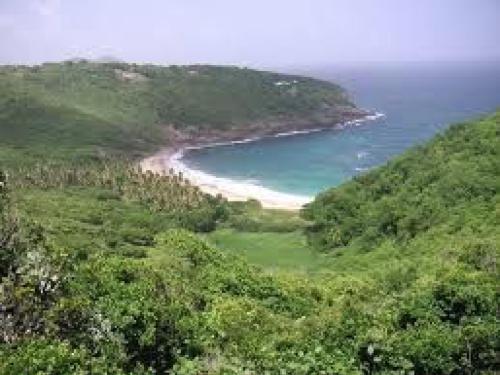 Hike to Hope Beach
From the Old Fort one can take a lovely hike to Hope Beach arguably the nicest unspoiled beach on the island. It takes about 20 minutes and if you drive part of the way only about 10. Hope beach is a scenic white-sand beach with a large tropical plantation, where gold was found some years ago. Ask the staff for directions or look at the hiking map which will be in your information folder in your room.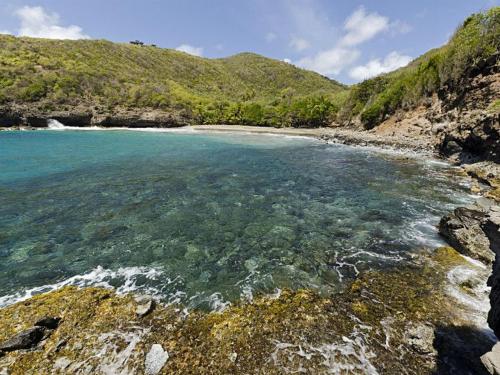 Hike to Ravine
One can hike to Ravine beach which is the only black / grey sand beach on the island. You can follow a more direct route via the Old Fort's development road or a more scenic walk through the estate which leads you around the hotels private estate (located above the sea) onto a historic cart road before you head on over to this beach. Chances are there will be no one there and you will have this place all for yourself (ideal for honeymooners). It takes about 15 - 25 minutes depending on your walking speed. You can also drive a part of the way and then it would be no more than 10 minutes.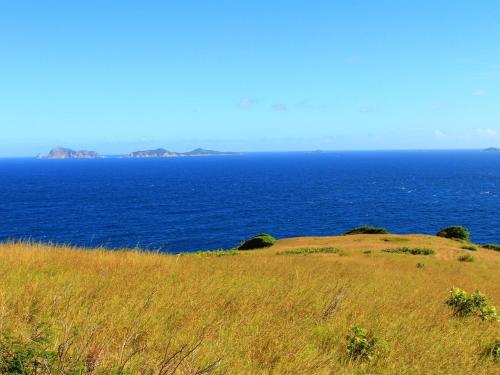 Hike through Old Fort Estate
Hike through the Old Fort Estate's own development which is over 28 acres of pure serenity. One can hike a beautiful path stopping at various viewing locations all the way down to the flat headland which is located just above the sea. On the way you will see an abundance of wildlife, flowers, birds and other island creatures. Just next to this spot above the sea is a lovely cactus and rock stone garden. This plateau above the sea is an amazing viewing spot, where one can picnic, or have an idyllic wedding ceremony. From there you can continue through the old cart road to beautiful Ravine beach if you wish. Chances are there will be no one there and you will have this place all for yourself (ideal for honeymooners).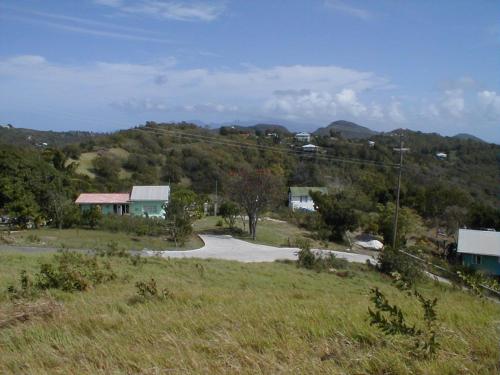 Walk around Mt. Pleasant
From the Old Fort, there is a lovely walk around the Mt. Pleasant neighbourhood. Enjoy walking around this small community of friendly Scottish settlers who migrated here hundreds of years ago and made their living through farming and fishing. You will enjoy spectacular views in different directions throughout this walk and are sure to meet some of the animals raised by the residents of this community. Stop off at Sugar Hill for a drink and a lovely look at the view overlooking Admiralty Bay. You can even continue from here into Port Elizabeth town which takes an additional 15 - 20 minutes.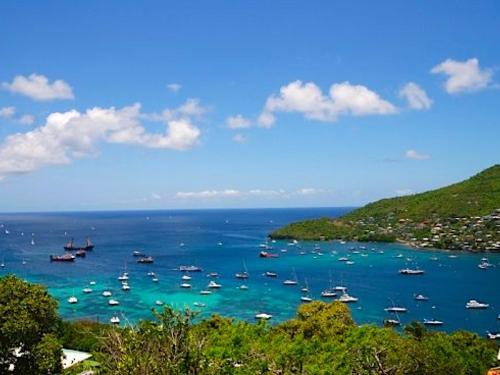 Walk to Port Elizabeth
From the Old Fort one can take a lovely 30 -40 minute walk down into Port Elizabeth. This walk will take you past Sugar Hill, where you can stop off to have a drink at this local bar and restaurant, or chill at the long-wall viewing point overlooking Admiralty Bay. Walk down the hill for another 15 - 20 minutes and on to the Belmont Walkway where you can choose between an array of bars, restaurants and shops or continue further into the centre of bustling Admiralty Bay where there are a range of services to choose from.
Hike to St. Hilaire Point down to Friendship
One can hike to Ravine beach which is the only black / grey sand beach on the island. It takes about 15 - 20 minutes however one can also drive a part of the way and then it is no more than 10 minutes. From this beautiful beach one can walk through the grassy pasture behind the beach to the top of St. Hilaire Point which is an amazing headland overlooking Friendship Bay and Mt. Pleasant. Once you arrive here and have taken on the lovely views you may want to walk a short distance down to Friendship Bay. There you can relax, having drinks or lunch, at one of the establishments along the Bay. From Ravine it takes about 15 - 20 minutes to get to Friendship Bay.
Bequia Head Trail
Bequia Head is at the most North-Eastern point of Bequia which offers stunning views from almost 600 feet above sea level, across the Bequia Channel to St. Vincent. It is an enjoyable walk through the local forest with views overlooking L' Anse Chemin, a bay which used to be the main entry to the island. From the viewing point you can also see various species of sea birds, as they ride the air currents close to the cliffs where they nest.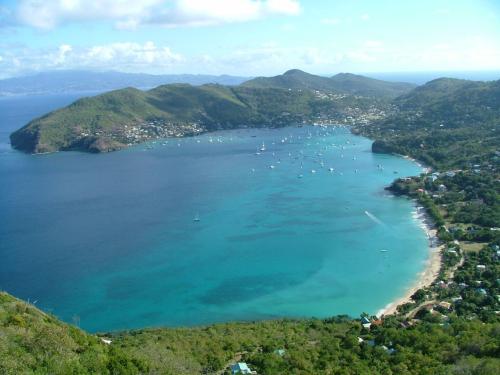 Hike up to Ma Peggy
Hike up to Ma Peggy with an experienced guide to show you the way. The climb up to Ma Peggy involves trekking through different zones of vegetation, including traveling through open pastures, dry bush, shrub and finally dry tropical forest, to reach the spectacular 360 degree view at the summit. Sitting on Peggy's rock offers hikers the best view in Bequia, including a stunning vista of the entirety of Admiralty Bay from Devil's Table right around to Lower Bay, with St. Vincent in the background. On a clear day all the islands to the South right down as far as Grenada can be seen from the summit.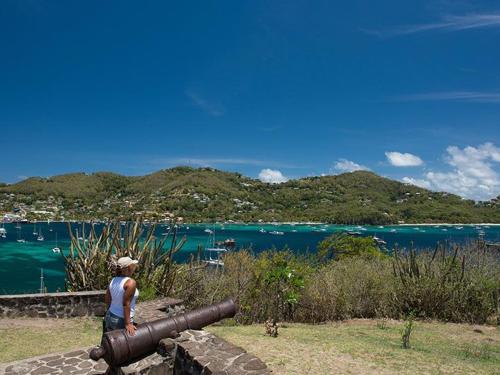 Hamilton Fort
Hike to Port Elizabeth (see above) and then over to the other side of Admiralty Bay past Ocar and Hamilton. On the Northern point of Admiralty Bay, beyond Hamilton village is what is know as the Hamilton Fort. The original structure is long gone, but both French and English cannons retrieved from the waters around Bequia are now placed there; the view alone is worth the visit.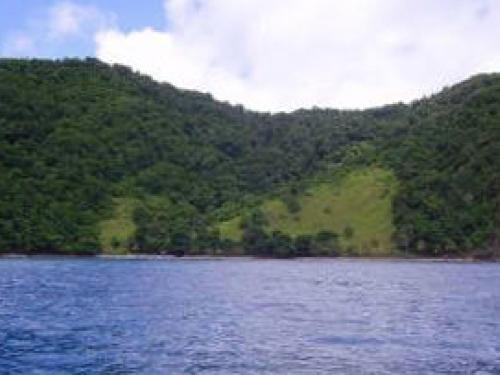 Hike to L'Anse Chemin
To get to this bay one walks along the road past Spring, Industry and Park beaches, before entering the stone quarry. You then follow the old smugglers trail towards Bequia Head before taking the trek along several bushy paths to this bay. L'Anse Chemin was the original landing point for the first European settlers who arrived on the island hundreds of years ago. The final few hundred meters climb down to this bay is a challenging, steep descent through bush until one reaches a dry stream bed which then leads onto the beach. Fishermen from St. Vincent had used this beach as a base, and the remains of their encampment are still present at L'Anse Chemin.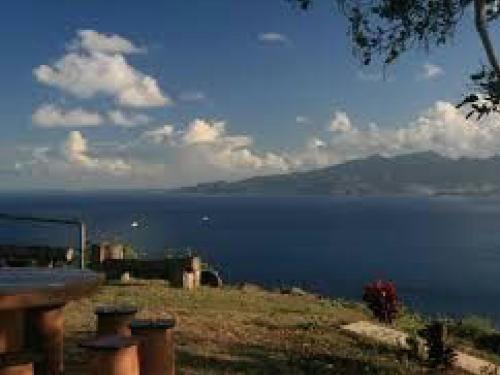 Hike to Spring Top
Walk from Port Elizabeth along gently sloping Spring Bay after which you can then take the Pea Patch road which takes you to the very top of the bay. Spring Top has a viewing point with spectacular vistas overlooking the island including views of the "mainland" St. Vincent.
Bequia Booking Office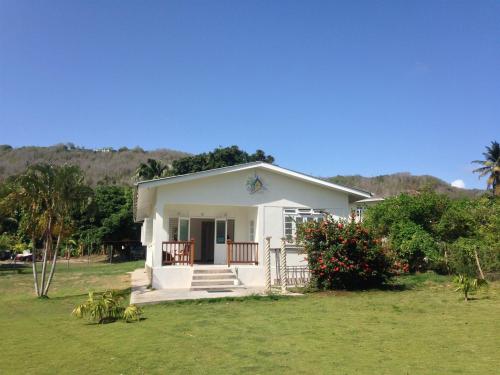 Bequia Booking Office
The Bequia Booking Office, which is located conveniently in Port Elizabeth, is dedicated in making your vacation in the Grenadine Islands as enjoyable and hassle-free as possible. Hosted by Real Grenadines (Real Estate) and Blue Grenadines (Villa Rentals) this office offers a unique concierge service in order to assist visitors in a number of ways. Some of these services include assisting with rental vehicle hire, day excursions & hikes, sailing & boating tours, fishing trips, diving, wedding & honeymoon specials, and much much more. It also offers a full service real estate agency for those that are interested in purchasing property on Bequia and in the Grenadines.
Restaurants, Bars & Nightlife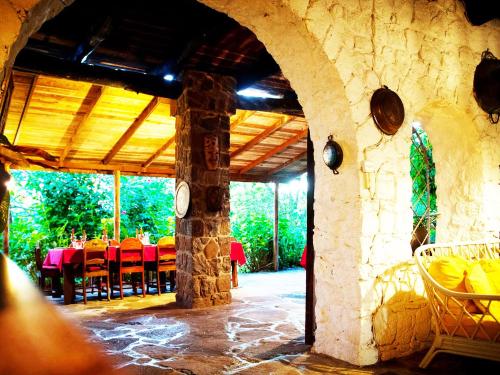 Dream View @ The Old Fort
Come to Dream View Restaurant at The Old Fort! We specialise in Creole-Mediterranean cuisine and have been recommended by numerous international publications such as Conde Nast Traveller and Gourmet Magazine. Choose amongst our various wines, cocktails and anything you may desire. Unlike most restaurants on the island a reservation is required. Do this as early as possible, ideally at least a day before, so that we can prepare in advance and save a seat for you.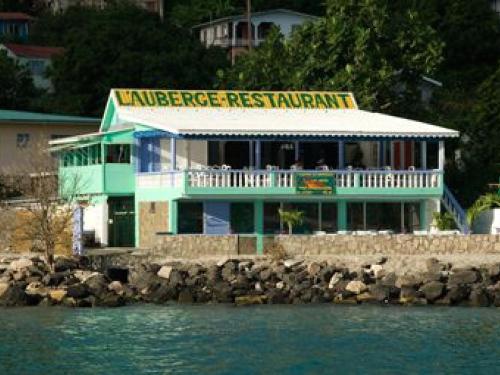 L' Auberge Fine Dining Restaurant
A waterfront restaurant with Bequia?s only live lobster pool. Fine dining with a French accent, lobster and seafood, a speciality for lunch or dinner. Choose from two daily prix fixe or à la carte menus. Perfect setting right by the waterside.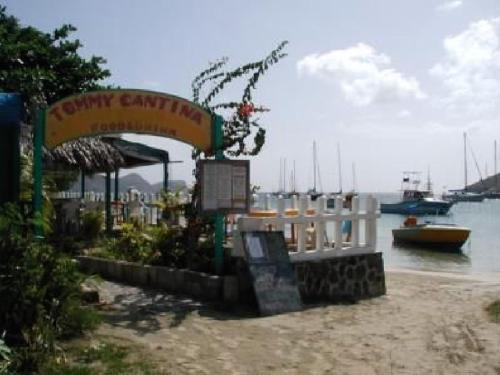 Tommy's Cantina
Tommy's Cantina in Port Elizabeth features outstanding Seafood and Mexican Food on the waterfront. The Chef is renowned for his seafood menu including lobster, fish, shrimp and conch. The delicious Mexican specialty recipes have been in the family for decades and include fabulous Margaritas, shredded beef tacos, chicken enchiladas, homemade black beans and more. Enjoy great sunsets and dining by candlelight.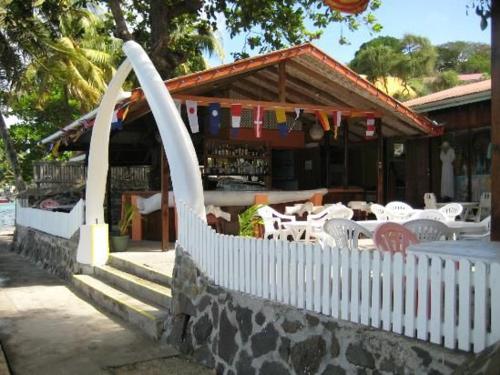 Whaleboner Bar & Restaurant
Whaleboner is one of Bequia's oldest family run restaurants. It is located on the beachfront & features dishes created using mainly fresh, local produce. It's signature feature is numerous whalebones that have been used to decorate the inside as well as the outside of the restaurant.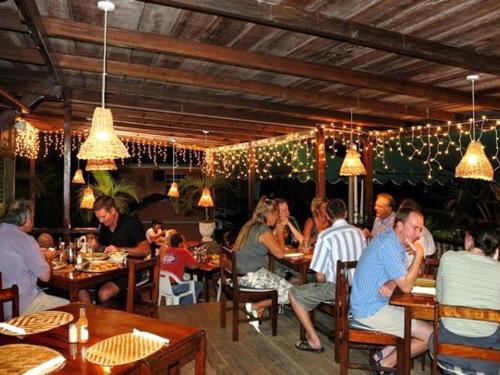 Mac's Pizza
Set along the Belmont Walkway between Gingerbread and the Fig Tree, Mac's has been serving up excellent food for over 30 years. Enjoy one of their world famous pizzas, including lobster (when in season) from the terrace restaurant overlooking the bay.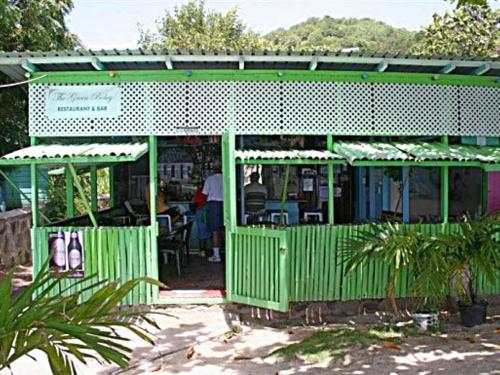 Green Boley
Admiralty Bay's delightful, local waterside bar and restaurant in Belmont, specializing in West Indian food including callalou soup, rotis and sandwiches. Outside, picnic tables under the trees provide a great setting for hanging out and watching the world go by.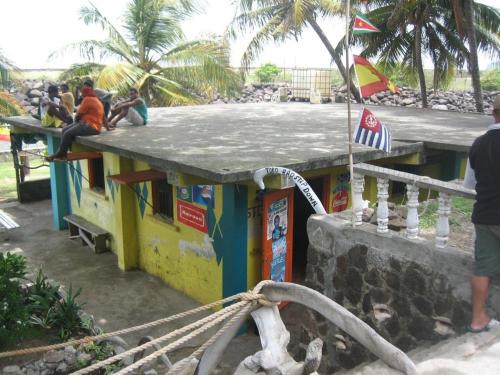 Step Down Restaurant & Bar
This hole-in-the-wall food joint sits in the old fisherman?s village known as Paget Farm on the South-Western coast of Bequia. You have to step down to get inside, hence the name. Chef/owner Toko is a force to be reckoned with! Don?t bother with a menu because there isn?t one. Just ask for the special of the day and enjoy the scenery?locals hanging out, playing Dominoes, dancing, singing, and drinking a whole lotta rum while Toko and his daughter prepare some of the best fish you?ll ever eat.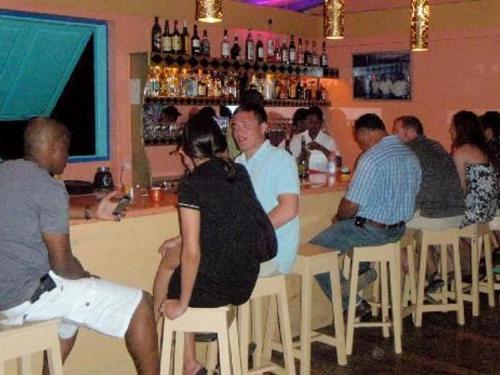 Coco's Place
Coco's features a West Indian and seafood menu with an International twist. Book lunch or dinner at Coco?s Place and you will be treated as a VIP, in a fabulous setting with a superb view, and enjoy some of the finest food on the island such as Coco?s conch chowder which is made with milk and light cream like a Newport chowder and is unbelievably tender.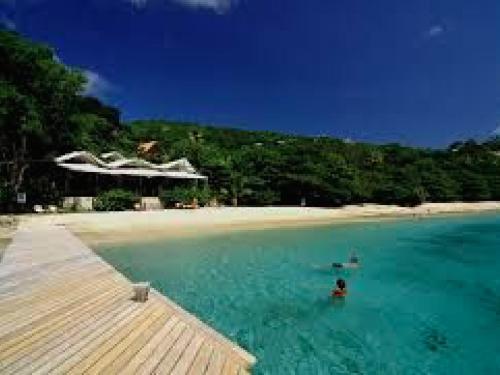 Jack's Bar
Jack's is a relatively new beachfront bar and restaurant, with a large dinghy dock designed to attract the yachties which is tucked away on the East end of Princess Margaret Beach. It offers a varied menu food from the usual burgers to more extravagant dishes for dinner. You will enjoy their attentive staff and its prime location on Bequia?s most popular beach.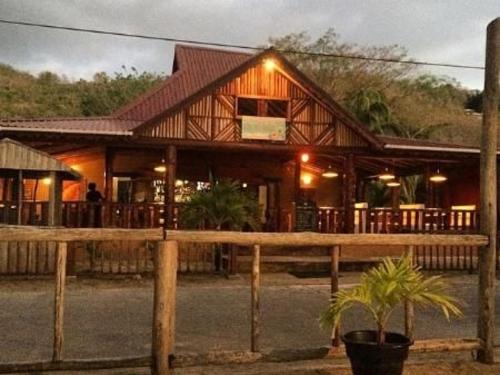 La Plage
A beautifully set restaurant right on the beach in Lower Bay. This property is run by a French lady and her Caribbean partner. It has an array of local as well as international dishes and is a great place to dine during the day or night. It is conveniently places in part with a deck that is located right on the beach.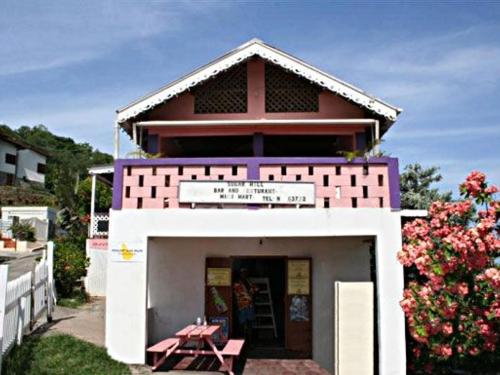 Sugar Hill Restaurant
Slightly off the beaten tourist path but a great favourite with locals as well as expats, Sugar Hill Restaurant serves up great local food in large portions at a reasonable prices. Along with the friendly owners and live music (on weekends), who could ask for more? You'll find this spot along the only road up to Mount Pleasant.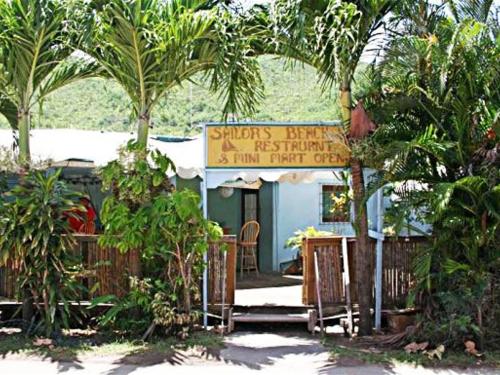 Sailors Cafe
If you are really hungry for local fare, go to Sailors and good luck trying to finish the mountain of food that you will get on your plate. It can be a bit of a wait as everything is freshly cooked for you but it's hard to beat for sheer value. Sailor's or otherwise known as Elfick's is located across from Coco?s Place in Ocar Reform.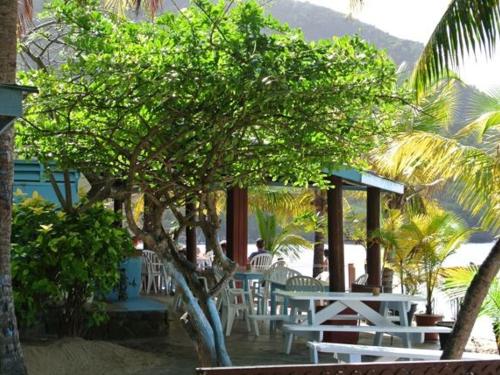 De Reef
Informal beach bar and restaurant with relaxed atmosphere located right on the beach at popular Lowerbay. The establishment serves delicious freshly prepared food including grilled fish, curried conch, conch souse, salads and sandwiches.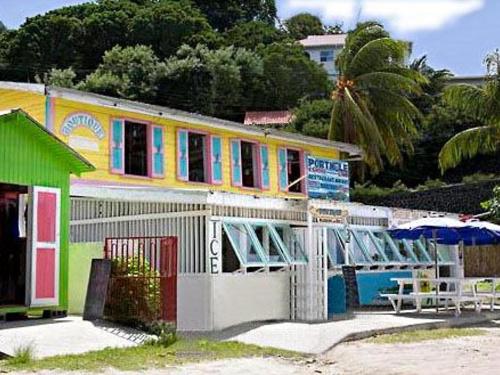 Port Hole
Port Elizabeth's delightful family-run restaurant and popular meeting place, serving hearty breakfasts, inexpensive lunches and delicious home-cooked dinners. Local Creole and international dishes are served daily, with fish being a specialty and Noelina?s rotis a legend!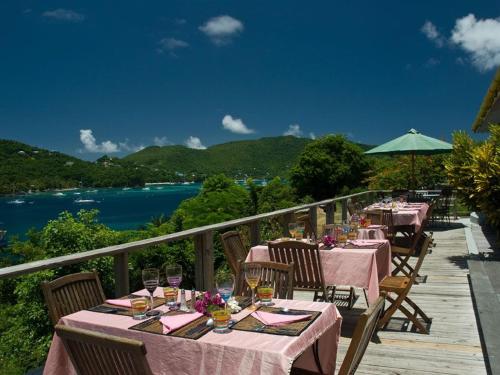 Papa's Bar & Restaurant
Papa's Bar & Bistro has a wonderful 'home-away-from-home' ambiance. The spacious and comfortable lounge is tastefully decorated with beautiful furnishings and art, while the al fresco dining terrace enjoys exquisite views overlooking the harbour. The menu offers an eclectic mix?from light snacks to more rustic, Carribbean food mixed with international specialities.
Tantie Pearl's
Tantie Pearl?s, above Port Elizabeth serves very authentic and unique West Indian cuisine. From this restaurant one can enjoy a beautiful harbour view overlooking Admiralty Bay. We advise to make a reservation.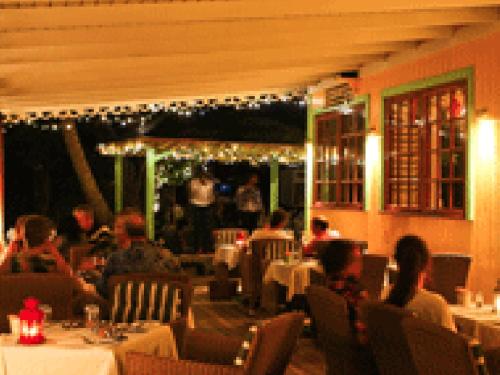 Fernando's Hideaway
Fernando?s Hideaway is tucked away in the hills above Lower Bay. It is open for dinner only and has a unique, intimate, informal atmosphere with delicious, local food freshly prepared by ?Nando? who often catches the fish himself!
Galleries & Museums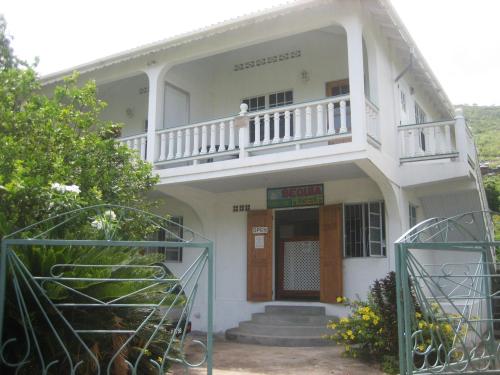 Bequia Maritime Museum
Although small, the Maritime Museum on Bequia has some beautiful models of boats that have played a part in Bequia's history together with old photographs and artefacts. Located at Ocar, nestled behind the island's only bakery, Lawson Sargeant keeps a part of the island's seafaring history alive.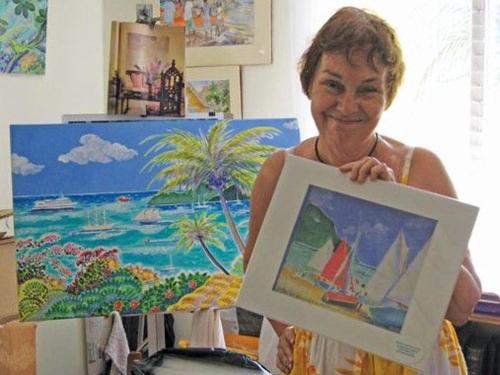 Mango Art Studio
Visit Julie's studio, a charming 1960's Bequia cottage right on the main road just beyond Port Elizabeth and situated on the hill above The Gingerbread Restaurant and dinghy dock - "look for the yellow wall", the studio offers paintings, prints on canvas, books and more.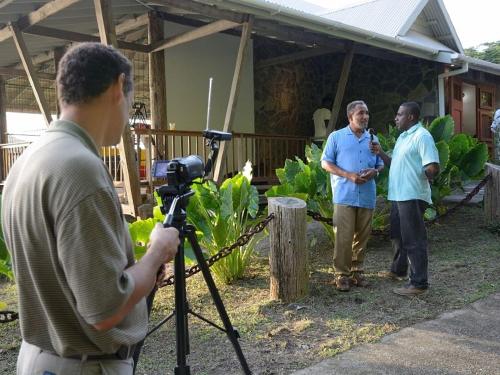 Bequia Museum
This Museum currently houses a 36-foot Amerindian canoe, two Bequia-built whaleboats and a 12-foot whaleboat tender, with detailed signage, photographs, ship?s models, equipment, artifacts and traditional woodworking tools completing the unique exhibit. This intriguing display is a must for visitors interested in learning more about the island and its seafaring heritage. Guided tours with accompanying talk are offered by prior arrangement.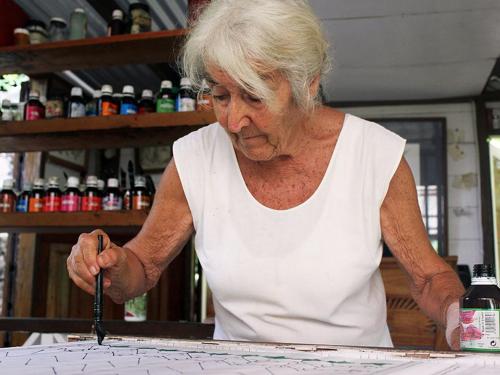 Claude Victorine's Art Gallery
A small roadside sign marks the studio of French artist Claude Victorine, located at the far end of Lower Bay beach, up the hill, nestled under palms and sea almond trees. Stop by and admire her delicate, hand-painted, silk wall hangings and scarves.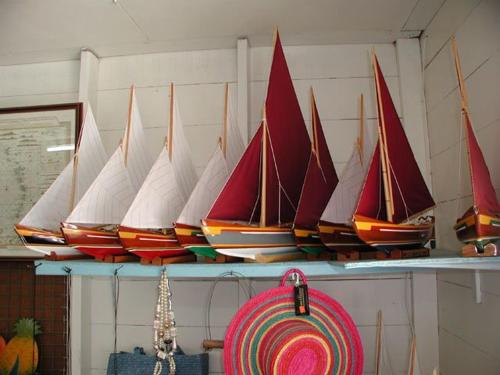 Oasis Art Gallery
The Oasis Art Gallery - Located behind the Porthole Restaurant, along the Belmont waterfront. Lucy, the curator, offers delightful arts and crafts.
Boutiques & Shops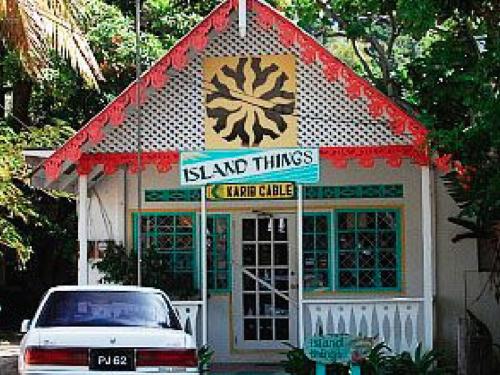 Island Things
A nice intimate boutique with a wide variety of handmade souvenirs and ornaments. Many are made locally.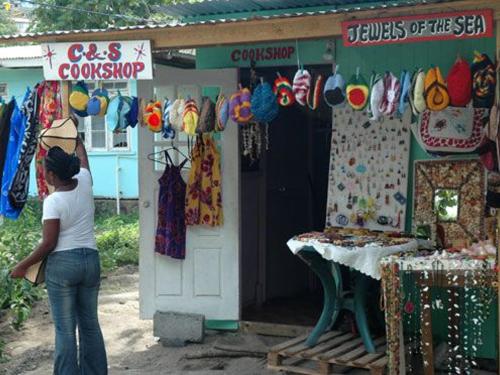 Local Artisans
There are numerous roadside stalls with artists and their own personal art and craft. Look for them on the Bay Street road passing the many nice restaurants, shops and bars.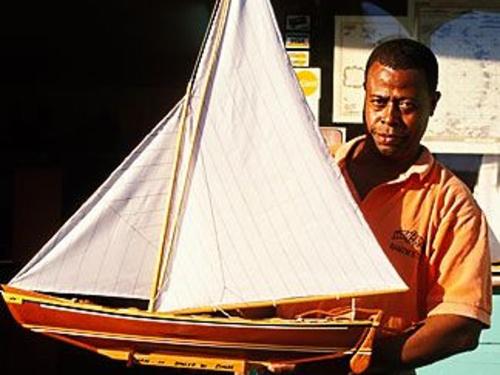 Sargeant Brothers Model Boat Shop
Did you know that Bequia has been famous for boatbuilding over its long tradition of seafaring history? This art of boatbuilding has been translated into model boat building with several shops offering this difficult craft. The Sargeant family has been one of the pioneers in this business and can construct any type of model boat, regardless of its size and style.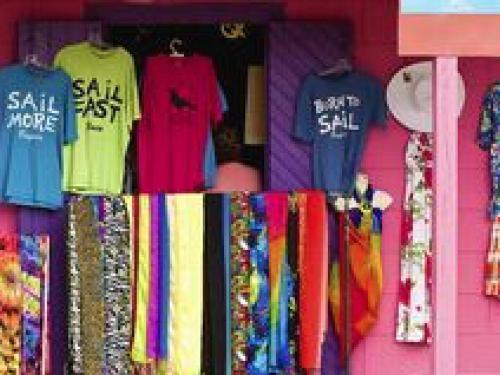 Local T-Shirt Market
Have a look at the many types of t-shirts one could purchase at an open market just in front of the main ferry dock. There may just be something unique and special which you could purchase as an ideal souvenir of the islands and Bequia.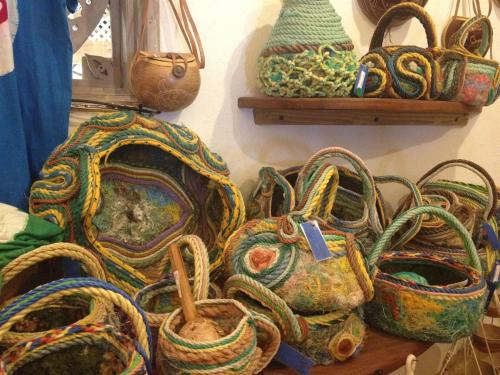 Small Shop Market
Just like the t-shirt market there is a small shop market located just adjacent to the main vegetable market. This market has numerous little cute boutiques from where one can choose amongst numerous memorabilia and art & craft which is being sold. Have a cold Hairoun beer at one of the few intimate bars within this market whilst looking around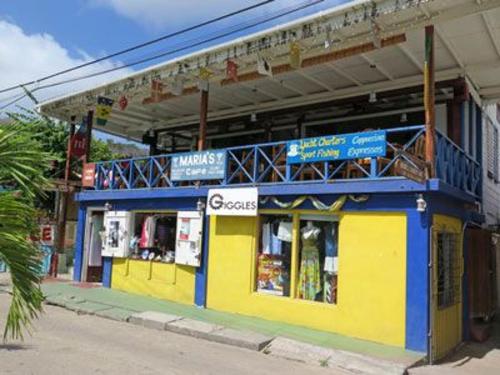 Giggles
Giggles is a boutique with a number of clothing styles and ornaments for sale. It is located conveniently only a few steps from the main dingy dock which is located at the almond trees. Highly recommended!
Local Dive Operators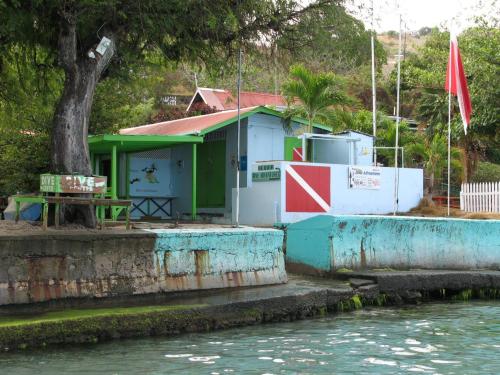 Dive Adventures
Bequia Dive Adventures is located conveniently along the Belmont walkway and operated by local, PADI certified instructors. They are more of an intimate agency if you would like to have more of a personal service.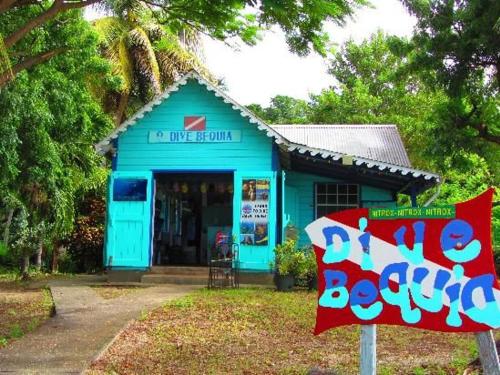 Dive Bequia
Dive Bequia has been around for decades. It is located conveniently along the Belmont walkway and operated by certified PADI instructors. The owner is American however lived in Bequia for many years.
Ferry Services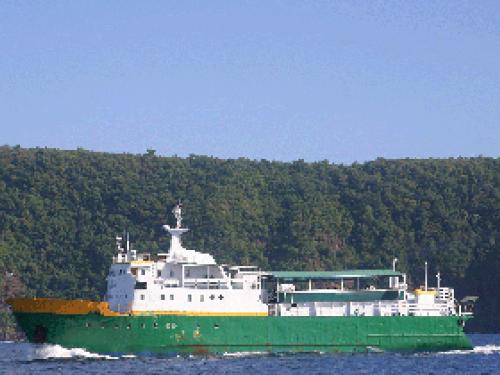 Admiralty Transport
Established since 1986, the Admiralty Transport Company has been keeping Bequia well connected to St. Vincent with a dependable, on-time ferry service for over 20 years.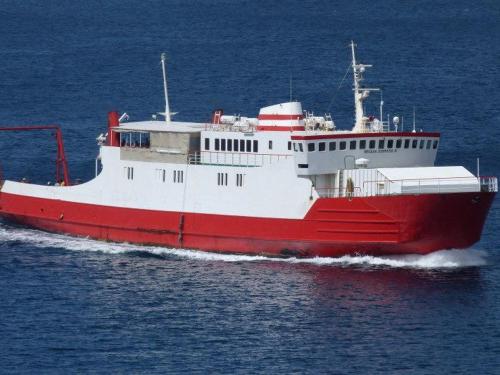 Bequia Express
Bequia Express offers daily auto/passenger ferry services to Bequia Island from St. Vincent, and from St. Vincent back to Bequia. It's an enjoyable one hour boat ride, and boats are scheduled several times every day.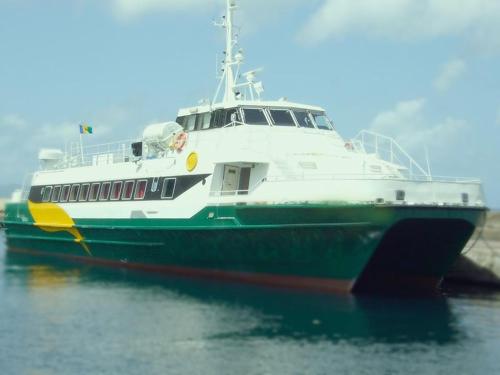 Jaden Sun
Jaden Sun offers a fast ferry service to the southern Grenadines. This ferry stops off at Canouan, Mayreau and Union Island - check their website for the schedule.