International Recognitions & Press -Articles and press featuring The Old Fort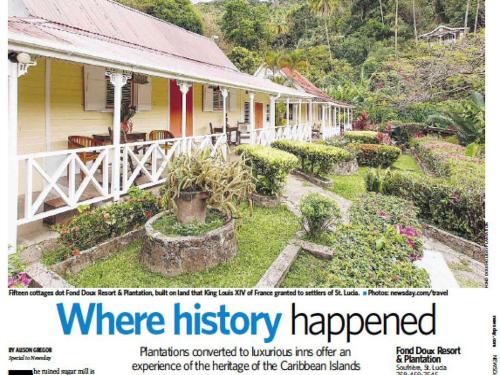 >NEWSWEEK (Download PDF)
Where History Happened - October 2014
Local hearsay indicates that the Old Fort was a former plantation, and maps from 1763 bear this out. Perched on Bequia?s highest point, Mt. Pleasant, with views of all the surrounding Grenadines, the Old Fort was a rubble-strewn ruin of walls, cisterns and foundations when it was discovered in 1978 by Otmar and Sonja Schaedle, visitors from Germany. They began a lengthy restoration of the estate in the French Colonial style, using timber from local forests and the same stone as that of the ruins (click link to read the entire article). The Old Fort now consists of eight rooms, six in the reconstructed plantation house and two built within the foundation of an ancient sugar mill. When it comes to focusing on plantation history, director and co-owner Quirin Schaedle says, ?I want to go more and more in that direction.?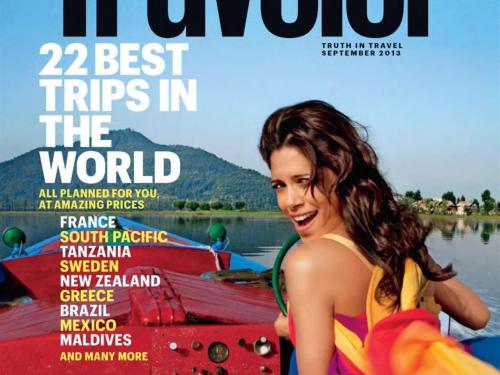 >CONDE NAST TRAVELER (Download PDF)
Off The Charts - September 2013
You do have to wonder what possessed a perfectly sane or possibly not German teacher to sail away from his home, his family, and his career and settle in the ruins of an eighteenth century plantation in the middle of the jungle on a tiny Caribbean island he'd never heard of. But that's precisely what Otmar Schaedle did in 1978. And now, thirty-five years later, here I was at the Old Fort, sitting with Otmar's thirty-three-year-old son, Quirin - who speaks, like the true islander he is, with a wonderful mishmash of an accent that is mostly West Indian but with barely discernible touches of German and "real" English. "I guess my father is an adventurer and a ro­mantic who must have felt constrained in Germany," he suggested (click link above to read the entire article).
INDEPENDENT TRAVELLER
Villas in the Caribbean, Old Fort, Bequia - August 2008

The pretty island of Bequia has undergone a huge amount of development in recent years. But the island's trademark quirky charm can still be found. The six-bedroom Plantation House, at the Old Fort, is a good example. It features acres of orchards and views to beat anything you'd find out on the open ocean.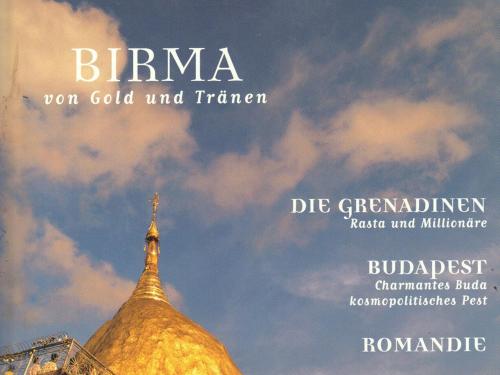 >NEWLAND SWITZERLAND (Download PDF)
Rasta und Millionaere, 2000
Die ersten Bewohner von Saint Vincent und den Grenadinen waren die Ciboney, die aus dem nahe gelegenen Lateinamerika kamen. Die Hauptinseln wurden anschliessend von den Arawak besetzt, die aus den Anden stammten. Spaeter eroberten karibische Krieger die Inseln. 1498 ging Christoph Kolumbus bei seiner dritten Reise in Saint Vincent vor Anker. Bequia ist die groesste der 32 Grenadine Islands. In der vergangenheit waren die Einwohner von der Insel vom Walfang abhaengig, weil diese Tiere ihnen willkommene Energieressourcen boten. Dass Old Fort Inn ist ein als schoenes Hotel umfunktioniertes altes franzoesisches Fort auf einem Huegel. Die 6 Zimmer sind vor Muecken geschuetzt. Freundlicher Empfang und ausgezeichnete Kueche.
TATLER ABERCROMBIE & KENT 
In the list of the 101 best hotels in the world | Travel Guide 1999

On a clear day, you can see Mustique from the Old Fort. Indeed, you can see right down the Grenadine chain of islands, of which Bequia is one of the most colourful. The harbour buzzes with life, with water taxis whizzing among yachts, from which Daffodil Laundry collects washing by rubber dubber. The Bequians sit on the shore under the palm trees making model boats - there's an annual model-boat regatta - and, when the Queen visited, she was presented with a replica of Britannia. The Old Fort was a rather eccentric place (owned by German professor Dr Otmar Schaedle), where one used to go to eat lobster and enjoy the view. Now it has been smartened up as a little hotel.

Bottom Line: Julian Allason says: 'The lovely restaurant is positively Burgundian: wines, pergola, peacocks - sophistication rare in the Grenadines. Ask for the room in the top of the twin towers - the view is comparable to that from Nelson's Heights in Antigua.'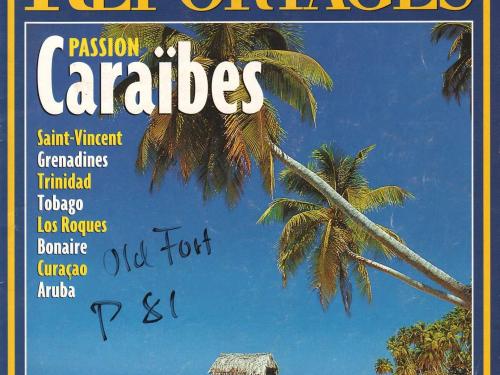 >GRAND REPORTAGES (Download PDF)
Passion Caraibes - November 1996
Pour ma premiere nuit, par exemple,j'ai loge a OldFartlnn, un vieux fortsitue sur lemont Pleasant. Un coup de folie pour Otmar Schaedle, un Allemand, professeur a I' origine, qui a tout Iache en 1989 pour vivre ici avec sa femme et ses deux enfants. - « Lorsque j'ai achete le terrain, il n 'y avait que des ruines. C'est en debroussaillant que j'ai trouve les fondations : une fer me A Bequla, Ia ferme fortifiee. Tenez, regardez, Ia fortlfh!e dumont Pleasant a ete pierre grise disposee en ban- transformee en hotel. des horizon tales indique une construction fran~aise . J'ai retrouve quelques boulets et des ruches. Et les citernes de Deux des six chambres occupent desormals Ia tour de guet. l'epoque, a l'eau de pluie! Elles alimentent encore mon hotel (cliquez sur le lien pour voir article entier).
NEW YORK MAGAZINE
Paradise Regained | The Most Chic for the Least Money - November 1995

Bequia (like Dominica) is one of the few Caribbean islands with an almost pre-war flavor. The Old Fort is 500 yards from the sea and atop the cliffs on a 30-acre property with a view of the Grenadines. It is the only restored eighteenth-century plantation-house inn on the island, all cobblestone and wood beams in classic French-mansion-house style: think Burgundy. Pool from Christmas on; antiques and light-wood rustic Scandinavian in the rooms. Hope Beach is a twenty-minute walk away. Mediterranean-Caribbean cuisine: callaloo soup, stuffed barracuda baked in foil; crab in vanilla sauce.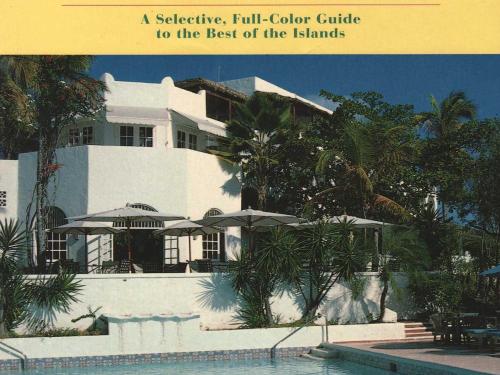 >BED & BREAKFASTS IN THE CARIBBEAN (Download PDF)
A Reconstructed Stone Fortress - 1995
The Old Fort is perched like a medieval castle on one of the highest hilltops of Bequia, commanding a panoramic view of the Grenadines. This inspired creation is the realization of a dream for Otmar and Sonja Schaedle, the inn's charming, Bavarian-born owners. The Schaedles reconstructed their stone estate as accurately as possible over the remains of a two hundred-year-old foundation. Otmar's former profes­sion as a history teacher gave him a fine eye for authentic detail-stone towers, arched doorways, rustic hinges, and stone walls-without any sacrifice of comfort. Though the overall impression is medieval, The Old Fort maintains an auberge kind of elegance (click link above to read the entire article). 
WASHINGTON INTERNATIONAL
Discovering The Grenadines - September/October 1995

Seated comfortably in the back of an open truck, we headed straight up the hills to the Old Fort, a country inn. Climbing higher, the view became more breathtaking until we reached the highest point, bringing us to the gate of the Old Fort.

18th Century Charm at the Old Fort

Nothing could have prepared us for the unexpectedly warm welcome we received from a small mischievous dog, Whiskey, who took a liking to our sanded toes. Between his barks of delight at finding twenty new toes to nibble, we met Monique, a sensitive donkey with an intelligent face, two beautiful peacocks, three blonde children and Otmar Schaedle, the Bavarian-born owner who graciously made the introductions. 

At the top of the hills, with breezes flowing from every corner, golden meadows billowing with hay, and fields dotted with sheep all the way down to the sea, Otmar and Sonja Schaedle, after sailing around the world, discovered their 30 acres of earthly paradise.

The Old Fort, built on the ruins of an old French fort dating from 1756, took 10 years of dedication and labor to restore to its original ambience. In 1984 it was opened to guests who discovered one of the most enchanting, small hotels in the world. At this unique country inn set among tropical gardens, the chickens produce the morning breakfast, and every evening a pair of peacocks appear on cue, perched atop the walls of the old sugar mill, preening against the setting sun.

Each of the six guest rooms retain some of the original stone walls, and the combination of exposed ceiling beams and rafters creates a distinctly medieval feel, its simplicity graced with antiques and original paintings. In the open air, lower den of the fort, the Mediterranean-Creole cuisine is excellent. For romantic couples and honeymooners who enjoy great food by candle and firelight, an added attraction is the superb selection of classical music.

Bavarian-born Otmar, a former music and history professor, has an instinct for the precise ingredients required to ensure a memorable and refreshing experience, totally of the beaten track.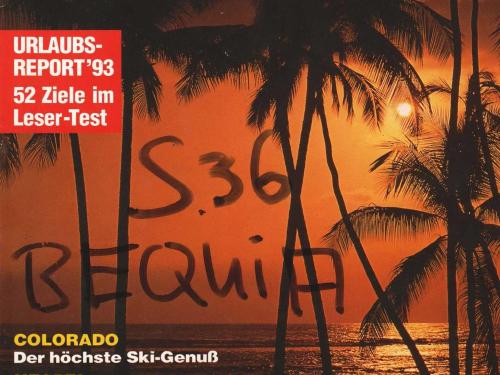 >GLOBO - DAS REISEMAGAZIN (Download PDF)
Kurs auf die Inseln der Barfuss-Eleganz - Januar 1994
Die "Local gang", die Band, die in den Lokalen von Port Elizabeth fur karibische Stim­mung sorgt, besteht aus Schwarzen und Weissen. Eddy, unser Fahrer, schwort, dass es auf Bequia den schonsten Strand der Grenadinen gibt. Das Old Fort Hotel ist etwas abseits, auf einem Hugel gelegen - und doch ein Restau­rant, fuer das man besser reserviert, denn es hat nur Platz fur 18 Gaeste. Die ambitionierte Kueche bietet eine Mischung aus franzoesischen und lokalen Elementen. Das Old Fort hat die beste Aus­sicht auf Bequia und einen prachtvollen Garten. Hier is es noch angenehm mild, wenn unten am Strand die Sonne brennt (click link above to read the entire article).
NEW YORK MAGAZINE
Island Life | Beguiling Bargains - November 1993

The Grenadines are visible just above my toes. Room 3 at the Old Fort Country Inn on Bequia ranks high in the pantheon of Caribbean rooms with great views. I'm stretched out on a corner banquette, looking at Canouan, Union Island, Mayreau, Petite Martinique, and bulky Carriacou through an oblong space about twenty feet wide. On a clear day, they say, you can see Grenada. Credit for my wide-angled panorama goes first to the French, who built a fortified estate of local stone atop Mount Pleasant on Bequia. And now, some 200 years later, to Otmar and Sonja Schaedle, who discovered the sturdy ruin and, in 1988, opened it as a hotel-cum-home.

The Grenadines are cruising heaven, but I don't envy the sailors beating through the whitecaps in tiny boats far below. My lofty perch, cooled by the trade winds and fitted out like an island schooner with hand-peeled lodge-poles and finger holes instead of knobs on the varnished cedar cabinets, is as yar as I care to be. The bunk-like beds and the solid table, like all of the furniture in the shipshape room, look just as substantial as the inn's original cisterns, which hold 100,000 gallons of rainwater and are still going strong.

The Old Fort suites undemanding hikers, loners, the beached out. The Schaedles (who have split but continue to co-manage the property) converted their fort into an idiosyncratic and atmospheric inn with six rooms, no boutique, no beach, and (till 1995) no pool. Tennis buffs and the persnicketies needn't give it another thought. I walked gingerly down a rocky road to Ravine Beach, 480 feet below Old Fort, but the rough surf discouraged swimming. Grab a water taxi at Port Elizabeth to reach Princess Margaret or Lower Bay, Bequia's finest beaches.

Meals are meaningful, and Otmar uses music artfully to establish mood. Brahms and a tropical glade formed of palm and banana fronds provided the perfect backdrop for the first ripe mango of the season and for the most toothsome passion fruit, a purple-skinned Vincentian variety, I've ever tasted.

At night, worn tablecloths and other signs of five years of use are obliterated. A fire and candles flickering beneath cascades of white bougainvillea create a romantic setting. Lady Day and chorusing peepers replace Brahms and the cackling Nona the parrot, who is now fast asleep. As if on cue, a slender new moon rises as the garlicky tuna steak, grilled au point, with a side dish of curried pigeon peas, is served on the arched patio. From the warm homemade banana bread to a dessert of flambéed bananas the kitchen produced stellar food. No wonder taxis bearing dinner guests snake up the curvy, newly paved road every night. At last, a meal that is arresting as the ambiance. 
CARIBBEAN TRAVEL & LIFE - 1991

Bequia's inns, like everything else here, are authentic and eccentric. The newest, with perhaps the oldest history, stands out as a very special retreat. Perched on the lofty heights of Mount Pleasant, with views of mundane Mustique and the Spice Island of Grenada, the Old Fort is the charming dream-come-true of Otmar and Sonja Schaedle, who sailed here from Germany 12 years ago and fell in love with the place.

Just six simple apartments are available, all with private baths and kitchenettes. Solid wood-framed beds are draped with romantic (and practical) mosquito nets, and fresh flowers fill the rooms. Guests share pretty gardens that have sitting and meditating areas. Peace and serenity abound, the right clients will be your most grateful ones.

On an island not known for its cuisine, the Old Fort stands out like a beacon. Five-course dinners are wholly romantic affairs, served by candlelight outdoors on the stone patio or in the airy salon by the crackling flickers of a lovely stone fireplace. A small swimming pool (with a view) should be ready for high season. Most guests, however, just pass their days reading in the shade, losing their place often as they gaze out over the turquoise sea.
>CARIBBEAN TRAVEL AND LIFE (Download PDF)
Beguiling Bequia - March 1989
The Old Fort was built on the ruins of an 18th - century French fort by Otmar Schaedle, a former history and music professor from Germany. This very special hideaway is perched on the lofty hills of Mount Pleasant with spectacular views all around. Four rustic apartments and a two-bedroom restructured gingerbread wooden cottage all have private baths and kitchenettes. Sitting and meditating areas are framed in bougainvillea and a profusion of tropical exotica. Because of the poor road, Otmar transports his guests, who are treated as friends rather than paying clients, to town, beaches, or jump-ups. On an island not known for its cuisine, Otmar is a gastronomic genius and will prepare creative dinners on request. A perfect polished jewel in the jungle.
Key quotes from past press and articles!
"The most romantic spot on Bequia" | Frommers, 2010
"Brimming with character" | Brides Magazine, 2009
"Views to beat anything out on the open ocean!" | Independent Traveller UK, 2008
"Have your breath taken away!" | The Guardian UK, 2007
"An institution!" | Harper's Bazaar UK, 2007
"Incredible hilltop perch!" | Gourmet Magazine, 2005
"The top tower room could be the most romantic in the islands" | Gourmet Magazine, 2005
"The Old Fort has a reputation for delicious Creole and continental dishes in a very romantic and serene setting. An after-dinner stroll to stargaze is an added bonus that makes it worth the taxi ride up and back" | Rum & Reggae, 2003
"Built like a real fort crossed with a Tuscan villa" | The Mail on Sunday, 2002
"A 10 for romance" | Conference & Travel Chicago, 2001
"Magnificent hilltop views" | Money Magazine, 2000
"The Old Fort has the island's best views" | Sunday Telegraph, 2000
"Kind reception, exquisite cuisine" | Newland Switzerland, 2000
"One of the 101 best hotels in the world" | Tatler's 99 Index, 1999
"Notre coup de coeur" | Terre de Charme Paris, 1999
"Stunning setting… excellent restaurant" | Fodor's, 1998
"Some of the best meals" | Sunday Telegraph London, 1998
"One of the Top Ten Finds in the Caribbean" | Outside Magazine, 1997
"The best of the islands" | Frommers, 1996
"The restaurant a magical setting" | Frommers, 1996
"One of the Top Ten Inns in the Caribbean" | Travel & Leisure, 1996
"Un coup de folie" | Grand Reportage Paris, 1996
"Think Burgundy" | Paradise Regained, The Most Chic for the Least Money - New York Magazine, November 1995
"One of the most enchanting small hotels in the world" | Washington International, 1995
"Bequia's most charming hideaway" | Birnbaums, 1994
"Meals as arresting as the ambiance" | New York Magazine, 1993
"Stellar food" | The New Yorker, 1993
"The exception to the stay in town rule" | Berlitz, 1993
"Unique atmosphere" | International Travel Geneva, 1993
"Highly recommended" | Island Handbook, 1992
"The most romantic spot on the most romantic island" | Travel Magazine, 1991
"On an island not know for its cuisine, the Old Fort stands out like a beacon" | Caribbean Travel & Life, 1991
"To find something special one has to search…" | Bartens, 1991
"Die Kroenurg eines Bequiaaufenthalts" | Die Yacht, 1990
"A gastronomic genius" | Food and Wine, 1990
"The Mediterranean-Creole cuisine simply best in the region" | Bride's Magazine, 1990
"Culinary creations" | Caribbean Travel & Life 1989
"Delicious meals keep guests from Bequia's waterfront" | Vogue, 1989